This iced Antioxidant Rich Blueberry Green Tea is a light and refreshing detox drink recipe that's loaded with antioxidants that'll give your immune system a nice boost.
If you love blueberries, you're going to love this Antioxidant Rich Blueberry Green Tea!  This tea is infused with blueberries, sweetened with a wee bit of honey and it has a deliciously light taste that kind of screams of summer!  Even when it might be the dead of winter.  It also comes with a host of nutritional perks worthy of your attention.
Green Tea Benefits – The benefits of green tea comes from its catechins.   Catechins  are powerful antioxidants that fight off cell damage. Green tea is touted for improving blood flow and lower cholesterol levels, and may (according to some studies) help prevent a range of heart-related issues, from high blood pressure to congestive heart failure.  When making a cup of green tea, it's best to just heat the water (not boil it) because the heat from steeping the tea in boiling water can destroy the benefits of catechins.
Blueberry Benefits – Blueberries are a powerhouse superfood containing antioxidant and anti-inflammatory compounds that help to ward off major disease like Alzheimer's, diabetes, heart disease, and some types of cancer.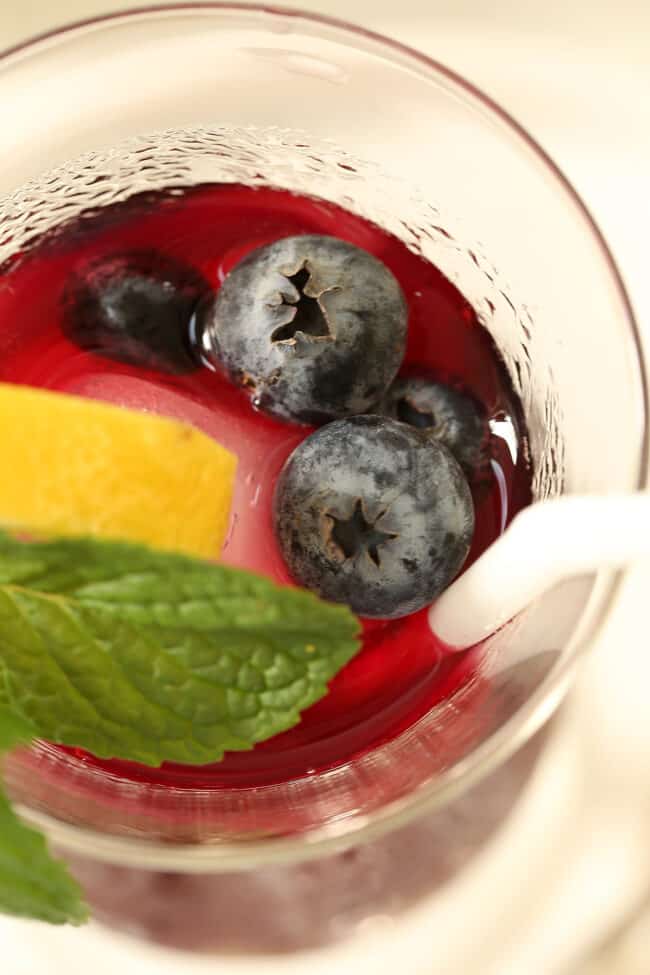 The other day, my mom was telling me about a friend of hers who grows blueberries in clay pots in her back yard. I had never thought to grow my own blueberries before.  Then I saw this article and decided to put it on my to-do list for a weekend project.
INGREDIENTS:
6 cups distilled or mountain spring water
4 green tea bags (I use Stash brand)
1  cup fresh or  frozen blueberries
1/4 to 1/3 cup clover honey (depending on how sweet you like your tea)
3 tablespoons fresh lemon juice
ice cubes, lemon slices, and fresh mint leaves for garnish
DIRECTIONS:
Bring the water almost to a boil in a large pot, then turn off heat.
Add the green tea bags to pot and cover with lid. Let tea bags steep for 3 minutes.
Remove tea bags.
Pour the tea into a blender.  Add the blueberries and blend for a few seconds.
Pour the tea through a strainer into a large pitcher.  Use a silicone spatula to push the mashed berries against the strainer to get all of the juice.
Stir in the honey until dissolved.
Stir in the lemon juice.
Chill in the refrigerator before serving.
Serve in tall glass over ice.
Garnish with lemon slices and mint leaves.
Let me know what you think of this DETOX machine and any recommendations / variations you might suggest to the recipe that you've tried yourself?  🙂