ONE PAN Roasted Lemon Butter Garlic Shrimp and Asparagus tossed with chili flakes and fresh parsley is not only bursting with flavor but on your table in 15 MINUTES!  No joke!  The easiest, most satisfying meal that tastes totally gourmet.  Stock up on frozen shrimp and you can make this luxurious tasting meal at moment's notice.  Serve the (customizable heat) spicy garlic shrimp plain or turn it into lemon garlic butter shrimp pasta!
RECIPE
ONE PAN ROASTED LEMON BUTTER GARLIC SHRIMP AND ASPARAGUS
I think it's time for a ONE pan meal, yes?
What about a one pan sheet pan meal in 15 minutes?
What about a One Pan Sheet Pan 15 Minute Meal with juicy, plump shrimp and crisp tender asparagus?
What about One Pan Sheet Pan 15 Minute Lemon Butter Garlic Shrimp with Asparagus?
Yes, yes and yes!
One of the simplest yet, yet most satisfying meals has to be shrimp.  Its one of those quick and easy walk-in-the-door-last-minute-meals that you can make at any time with frozen shrimp.   And one of the simplest yet most satisfying flavor combinations to pair with shrimp has to be the dynamic trio of lemon butter and garlic.  Shrimp looooves a good lemon garlic butter bath.   But instead of creating a sautéed lemon garlic shrimp recipe,  we are going to roast our Lemon Butter Garlic Shrimp!
Have you ever roasted shrimp?  It is one of my favorite methods to produce perfectly even cooked shrimp and the hands-off method is foolproof and ridiculously easy.  More importantly, the spice infused oil has longer to permeate the shrimp (6-8 minutes) so as they transform into tender, fragrant, succulent morsels, they drink up the flavor and emerge hot, juicy and exploding with deliciousness.
But I'm getting ahead of myself, to achieve a 30 minute meal all in ONE pan, we first roast our asparagus.   Line a jelly roll pan with foil, add your asparagus then toss with olive oil, garlic, salt and pepper.  The roasting time will depend on the thickness of your asparagus. I use thin asparagus for this recipe and roast for 4 minutes.  If you have medium asparagus, then you'll want to roast closer to 6 minutes.
Next remove the asparagus, push to one side of the pan and add you raw shrimp.   To achieve succulent shrimp perfection, we drizzle our shrimp with olive oil then toss with garlic, salt, pepper, paprika, red chili flakes and fresh parsley, then dollop the shrimp with 2 tablespoons cubed butter and the asparagus with 1 tablespoon butter.
I've seen some roasted shrimp recipes that use as much as 1 cup (2 sticks!!!) butter so feel free to use more or less butter, but I think the 3 tablespoons is perfect to create buttery shrimp while still feeling good about eating it.  After you roast your shrimp and asparagus for another 6 minutes, you drizzle with fresh, bright lemon juice.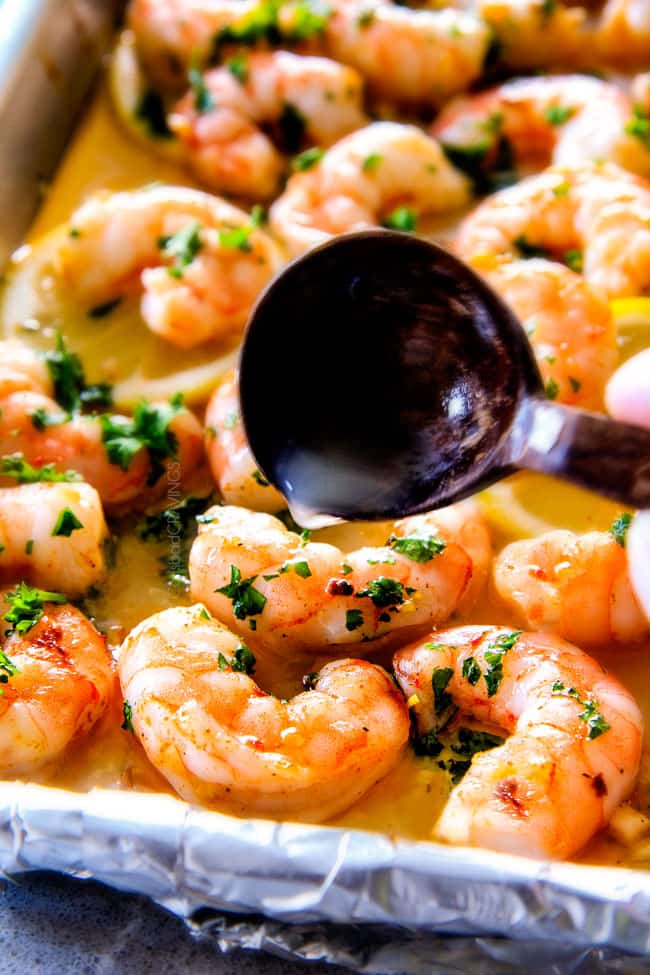 The melted butter mingles beautifully with the lemon juice to create a light lemon butter sauce that you can drizzle over rice or pasta.  And there you have One Pan Roasted Lemon Butter Garlic Shrimp and Asparagus with buttery shrimp, garlic shrimp, lemon shrimp, one pan shrimp.  My favorite kind of shrimp.
WANT TO TRY THIS ONE PAN ROASTED LEMON BUTTER GARLIC SHRIMP AND ASPARAGUS?
PIN IT TO YOUR SEAFOOD, ONE PAN, OR DINNER BOARD TO SAVE FOR LATER!